Line-up herdenkingsconcerten Taylor Hawkins bekend gemaakt
16.06.2022
De Foo Fighters hebben de line-up bekend gemaakt van de herdenkingsconcerten voor hun overleden drummer Taylor Hawkins.
Taylor stierf compleet onverwacht op 25 maart en liet niemand onberoerd.
Miljoenen mensen, van fans tot artiesten, brachten hun steun uit aan zijn familie en bandleden.
Lang was er radiostilte, maar nu zijn de Foo Fighters terug! Voor heel even dan.
Op 3 en 27 september zullen er 2 herdenkingsconcerten zijn voor Hawkins. De Foo Fighters zullen bijgestaan worden door de grootste op aarde.
De eerste herdenkingsshow vindt plaats op 3 september in het Wembley Stadium in Londen.
En de special guests zijn allemaal stuk voor stuk legendes.
Niemand minder dan Brian May, Roger Taylor, Joshua Homme, Supergrass, Liam Gallagher, Dave Chapelle, Mark Ronson, Wolfgang Van Halen, Chrissie Hynde, Geddy Lee van Rush, Stewart Copeland van The Police en nog veel meer.
Voor de tweede show moet je wel al naar de andere kant van de wereld, want deze vindt plaats in Los Angeles' Kia Forum op 27 September.
En ook hier zijn de namen gestoord. RUSH's Geddy Lee & Alex Lifeson, Alanis Morissette, Miley Cyrus, Red Hot Chili Peppers' Chad Smith, Rage Against the Machine's Brad Wilk, Queen's Brian May & Roger Taylor, Queens of the Stone Age's Joshua Homme & Jon Theodore, Joan Jett, The Police's Stewart Copeland, Jane's Addiction's Chris Chaney, Gene Simmons, Mötley Crüe's Nikki Sixx, Mark Ronson, Omar Hakim, and Chevy Metal.
Op de site van de Foo Fighters staat de volgende statement: "As one of the most respected and beloved figures in modern music, Taylor's monolithic talent and magnetic personality endeared him to millions of fans, peers, friends and fellow musical legends the world over. Millions mourned his untimely passing on March 25, with passionate and sincere tributes coming from fans as well as musicians Taylor idolised. The Taylor Hawkins Tribute Concerts will unite several of those artists, the Hawkins family and of course his Foo Fighters brothers in celebration of Taylor's memory and his legacy as a global rock icon—his bandmates and his inspirations playing the songs that he fell in love with, and the ones he brought to life."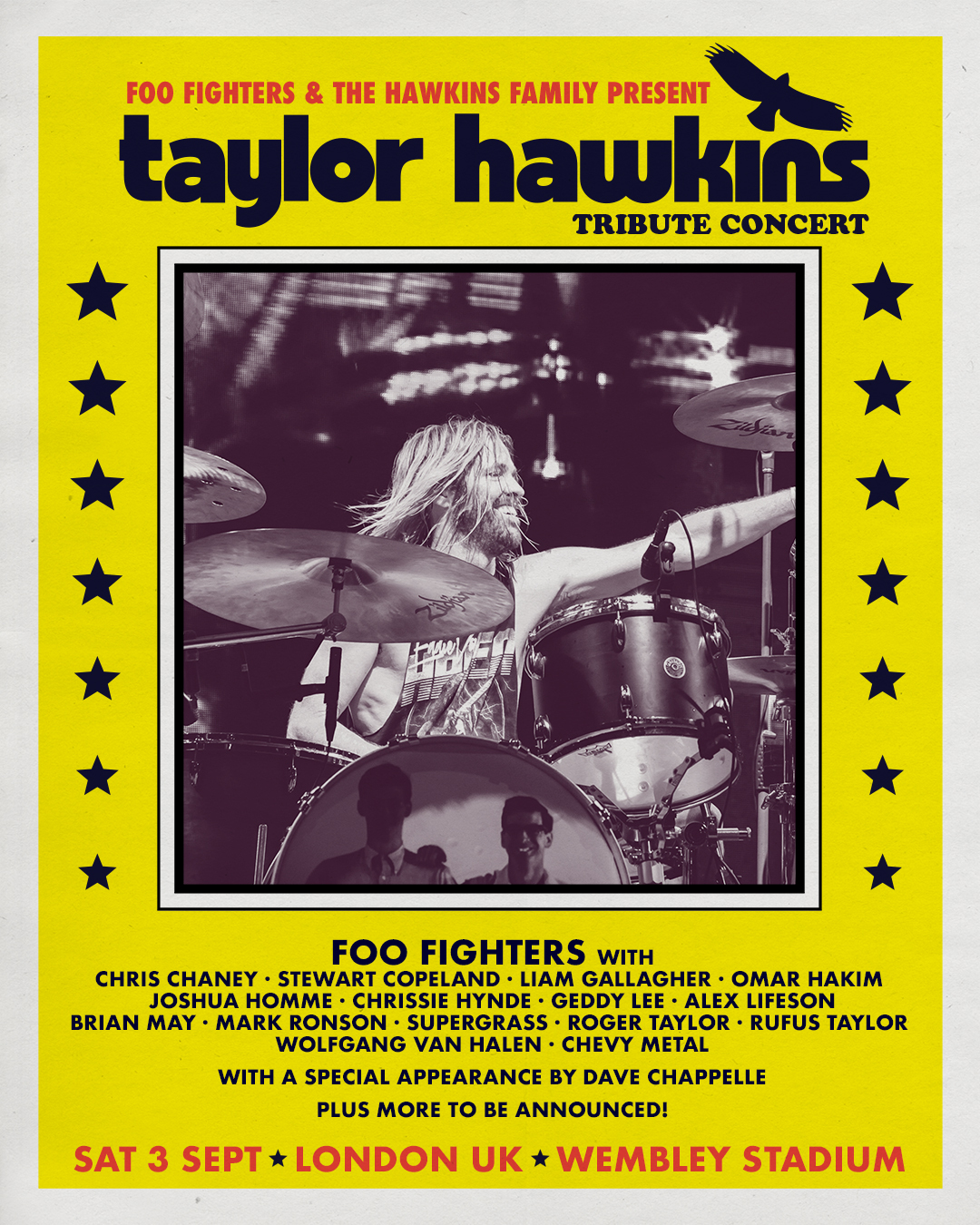 En er komen er nog, want de line-up's zijn voor de twee shows nog niet volledig.
Tickets voor de show in Londen gaan morgen in verkoop. Deze kan je hier kopen. De opbrengst ervan gaat naar een goed doel, gekozen door de Hawkins familie.

Herbeluister het muzieknieuws in 100 seconden hieronder!